What's a good name for the next workshop?
"Mythbusters: Pinoy Edition"
"Myth Universe!"
"Myth Myth, pakitigil lang pleath"
"Mythconceptions!"
"Misconceptions on Neuroeducation"
"Busted!"
"BustED!"
That one afternoon at Hillcrest Cafe marks the longest we've spent brainstorming for a name for the next Open Lab. We racked our brains for possible ones, replete with comedic (and saliva-splattering) turns. Our attempts revolved around these requirements: a workshop name that is (a) timeless (b) aligned with Open Lab's goals and (c) true to the Habi character—light-hearted, play-based and engaging.
We ended up with the title BustED!—a play on the idea of busting myths on the brain and education. The team, together with the super cool neuroscience educator Llenell Paz planned for the workshop. Momentum continued to rise as The Mind Museum (omg!) agreed to host the venue in one of their MindPod classrooms. What better way to talk about cognition than in a high-tech facility with science as its main thrust?
Armed with an engaging workshop title, a humble and accomplished collaborator, and an awesome venue, we set our sights on July 18, the target date for our 7th Open Lab.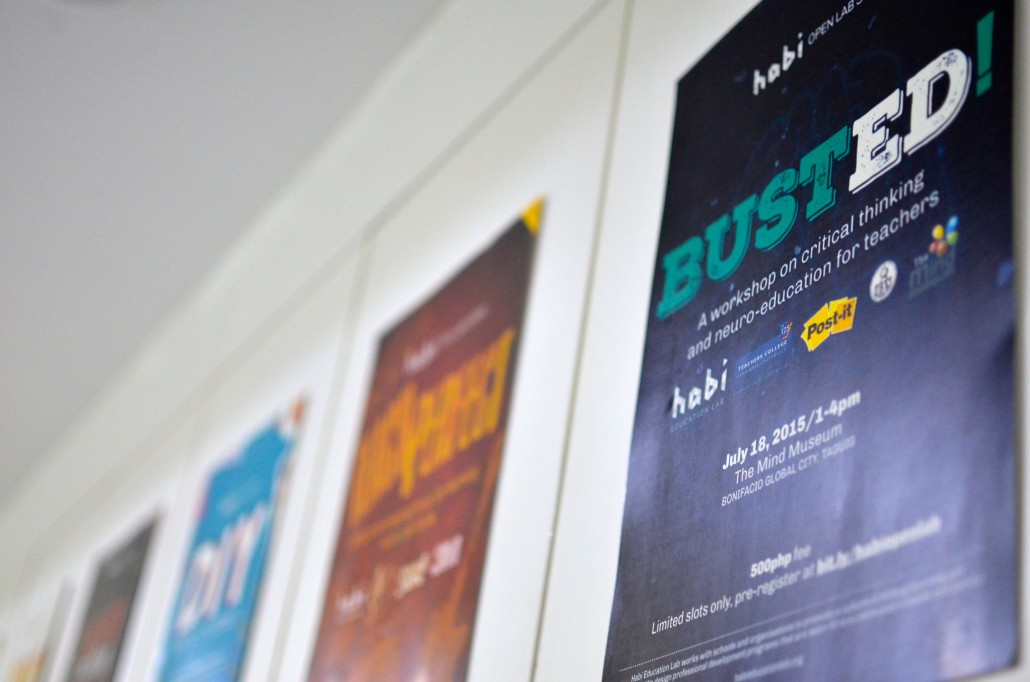 Getting Ready
We were in high spirits as the number of pre-registrants exceeded our expectations. The overflowing number of participants demanded an additional 9am-12nn session aside from the advertised 1-4pm session. The final count was 37 for the morning session and 35 for the afternoon— 72 in total! Not bad, as we used to scour hard through our friends' list just to invite more participants.
The venue lived up to our expectations— the mind pod was well-kept and furnished with a TV, tables and chairs, temperature was cool enough, Wi-Fi network was freely accessible and the staff were all helpful. The stage was set.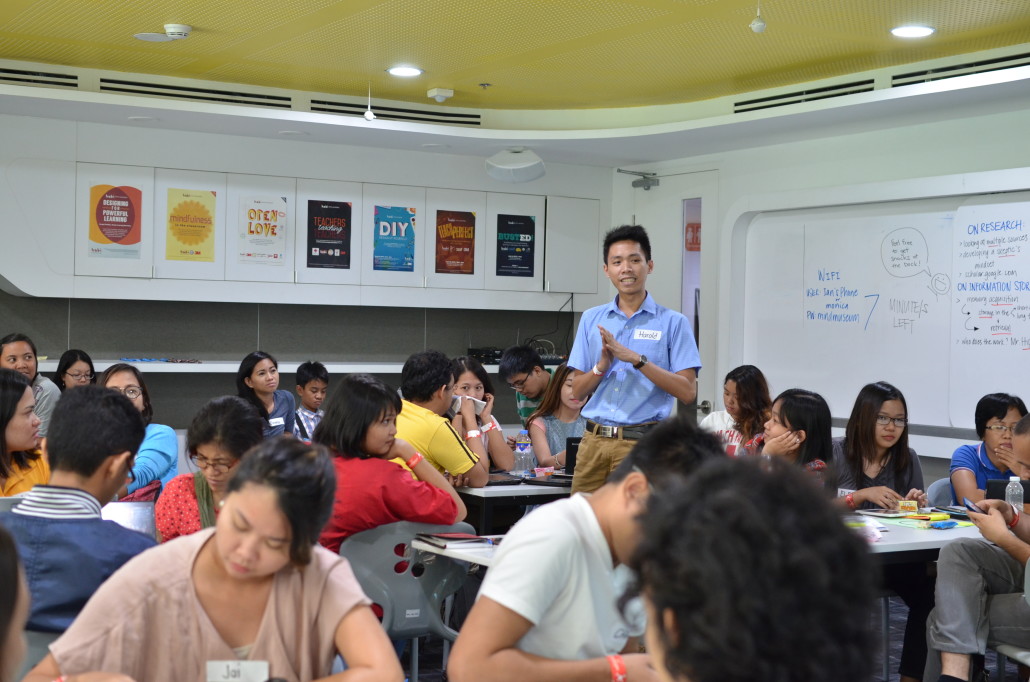 Going at it
Unlike past workshops, we made sure that as each participant registered, he was given a number that corresponds to his team number. This time, workshop participants were made to work with their own team of myth busters.
The teams were tasked to work on five pervading misconceptions in popular culture:
the 10% brain
left and right brain distinction
emotions and learning
Mozart effect
multiple intelligences
We spent 30-45 minutes learning about each topic with a live Q&A. And for each one we went through a step by step process:
alerting participants about a concept and provoking them to take action,
using research tools available at hand to prove or debunk it,
sharing the learnings with the participants, and
bolstering findings with theories on neuroscience.
Part 1: Twitter Q&A
For the first portion of the topics discussed, we simulated a TV Q&A where pseudo-viewers asked questions for our workshop participants to answer. Staying close to the pop culture theme, we invented an "Ask Kuya Kim" segment as a prompt.
The concepts to be discussed were masked in everyday questions:
"We only use 10% of our brains. Paano ko magagamit ang 90%?"

"Puwede ba yun, pareho siyang left-brained and right-brained?"

"How can I design a lesson if my class is composed of kinesthetic, visual and auditory learners?"
Laughter erupted whenever questions were flashed, probably because these concepts lingered among our participants and their students.
Part 2: Do-It-Yourself Research
The second part was a research session where the participants worked on answering the questions. Participants used tools with different levels of reliability ranging from Google Scholar, scientific journals, newsletters such as theguardian.com, and Wikipedia, to their own work and life experiences.
The dynamics of each table varied, some having group members that were convivial while some were more individualistic. With each table having access to the plethora of information on the internet, they were able to dig through the concepts and debate on the current research materials about them.
Part 3: Sharing the Findings
This leads to the third part, the sharing portion. The groups presented their findings to the everyone in the room. This brought about a democratic platform where everyone had the chance to hear each other out. Maribel Garcia, the spirited curator for the Mind Museum who attended the morning session, was integral in providing substantial information for the topics involved. Having conducted extensive research and published news articles, she willingly shared her insights on the different topics.
Part 4: Validating through Neuroscience
After the first three parts, Llenell served as the guardian of scientific truth by relating the topics to neuroscience and education. By providing biological underpinnings, we were able to trace how certain workings of the brain translate to learning.
In one of the discussions, we learned that the areas of the brain are not regions that function separate from each other but as a whole. The corpus callosum, for instance, may serve as a physical separator between the two hemispheres but serves a function bigger than what pop science indicates. So left brained and right brained isn't so accurate after all, it's a whole brain experience!
Also, through current fMRI (functional magnetic resonance imaging) and brain scan findings, we also learned that the connections are made in the millions of neural pathways and cannot be anticipated in one area alone. This finding validates that the concept we only use 10% of our brain is nothing but a myth.
For all topics, Llenell suggests a critical and impartial perspective. For instance, the theory of multiple intelligences shouldn't be viewed entirely as a myth but an ongoing research process that seeks to understand intersections between cognitive functions and behavioural styles. There are unique contexts behind the research done for most of these topics and they must be digested carefully and appropriately. As literature seeks to inform, we (and the media) must seek to be responsible bearers of accurate information.
Moving Forward
How does this affect our work as educators? How can we sift through the studies and decide which one to munch on? We have neuroscientists, behavioural psychologists, teachers and policymakers who influence current research. These disciplines use lenses that are highly distinct from each other. They have goals that function separately (i.e. a cognitive scientist may only be concerned about truths regarding the brain while a school psychologist may be more wary about how classroom limitations affect learner differences). As consumers of research and practitioners on the ground, how then do we develop a skeptic's mindset, as indicated by Llenell, and be critical of what we digest?
From the Open Lab, we learned that as the brain doesn't function in silos, so should our perspectives on research. As we deal with students that are highly individualised, we must avoid resorting to hasty generalizations, sacrificing accuracy for convenience. Like neurons of the brain, our students have capabilities beyond measurements or categories. They can connect, learn and fail on their own. It is our responsibility to scaffold this learning properly. As research in cognition, psychology, and education gains more ground, we suggest using an integrative lens and seek to understand deeper.
The Universal Design for Learning, as discussed in BustED, is a step forward— as it embraces the biological foundations and prescribes realistic action points for the teachers. A thorough understanding that goes beyond research abstracts will reflect in the way we design solutions for our students. If we continue to treat the students as cogs separate from a bigger chain of systems (school, community, government, work), misconceptions will continue to find their way to media and pop culture. Rather than continue to edit past errors, a thorough understanding of research will enable us to move forward with our work in education.