The series of lockdowns have been hard on Filipinos, especially those who rely on their daily wages to put food on the table. Inspired and frustrated by the struggles of her community and the slow aid response given by the government, Quezon City resident Patricia Non set up the Maginhawa Community Pantry, a bamboo kariton with rice, vegetables, milk, and other basic and essential goods that people can take for free so long as they follow this simple rule:
Magbigay ayon sa kakayahan. Kumuha batay sa pangangailangan (Give what you can; take what you need).
Within a week, more community pantries have popped up across the country. People from as far as Zamboanga have allocated small spaces in their communities where people can take or drop off items. Others have built on the idea and modified it according to the needs of their own communities, such as making mobile pantries, creating community pharmacies where people can avail of free over-the-counter medicines and vitamins, and even paw-ntries where people can give and get goods specifically for their pets!
Aside from giving directly to the community pantries, how might we build on the impact of these pantries? One way that educators can do this is by integrating the community pantries in learning activities for their classes!

Signages for Clarity and

Delight
Subjects: Design, Computer/ICT, Art
Most signages are simple – made out of cardboard or simply printed out on bond paper. How might we encourage people to support their community pantries through art and good design?
Ask students to think about what makes signages effective. Encourage them to empathize with the community members—what attracts attention or clarifies the goal of the community pantry? Afterwards, you can make a project for students to design, prototype, and/or create signages for their local pantry. For Computer classes, we recommend free tools such as Canva and Google Slides. You can also promote handmade signs in Art class.
Storytelling for Support
Subjects: Filipino, English
The Community Pantry movement spread through social media, but more importantly, through stories. How might we rally more people in our community to support the project—either as volunteers or donors?
Ask students to read and analyze social media posts through the lens of clarity, persuasive writing, or creative writing. You can also create exercises for them to write formal letters to local leaders and businesses to gather support
Safety First
Subjects: Math, Science, Health
Each street, barangay, and neighborhood is different. With COVID still posing a threat to our health, finding a space where community members can converge safely can be a challenge. Food also needs to be properly handled and stored. What guidelines can be put in place so that people can keep safe while supporting their community pantries?
In math class, they can answer these questions: How big should the space be? Where will people line up? How can we communicate the expiry dates of our products?
In science class, their skills in scientific thinking and inference can be refined. Based on the stories we've heard, what times might the pantry be busy? What environmental factors might impact the engagement and supplies? 
In health class, students can understand and communicate COVID health protocols. If we map the journey of a community member from lining up to leaving the pantry, which parts pose risks of transmission? How can we enforce safety guidelines?
Social Issues Analysis
Subjects: Araling Panlipunan
The pandemic is the perfect time to talk to learners about the government and the responsibilities of those who work in it. What are the gaps that the pantries seek to address? How might the government build on these good ideas to create sustainable interventions? What social issues are related to public health and the pandemic?
Particularly, this can be related to discussions of Contemporary social issues (Gr 6), Economics (Gr 9), and Civics (Gr 10).
We suggest a variety of activities: individually-written essays, vlogs, class discussions, debates, and others.
Main Points to Take Away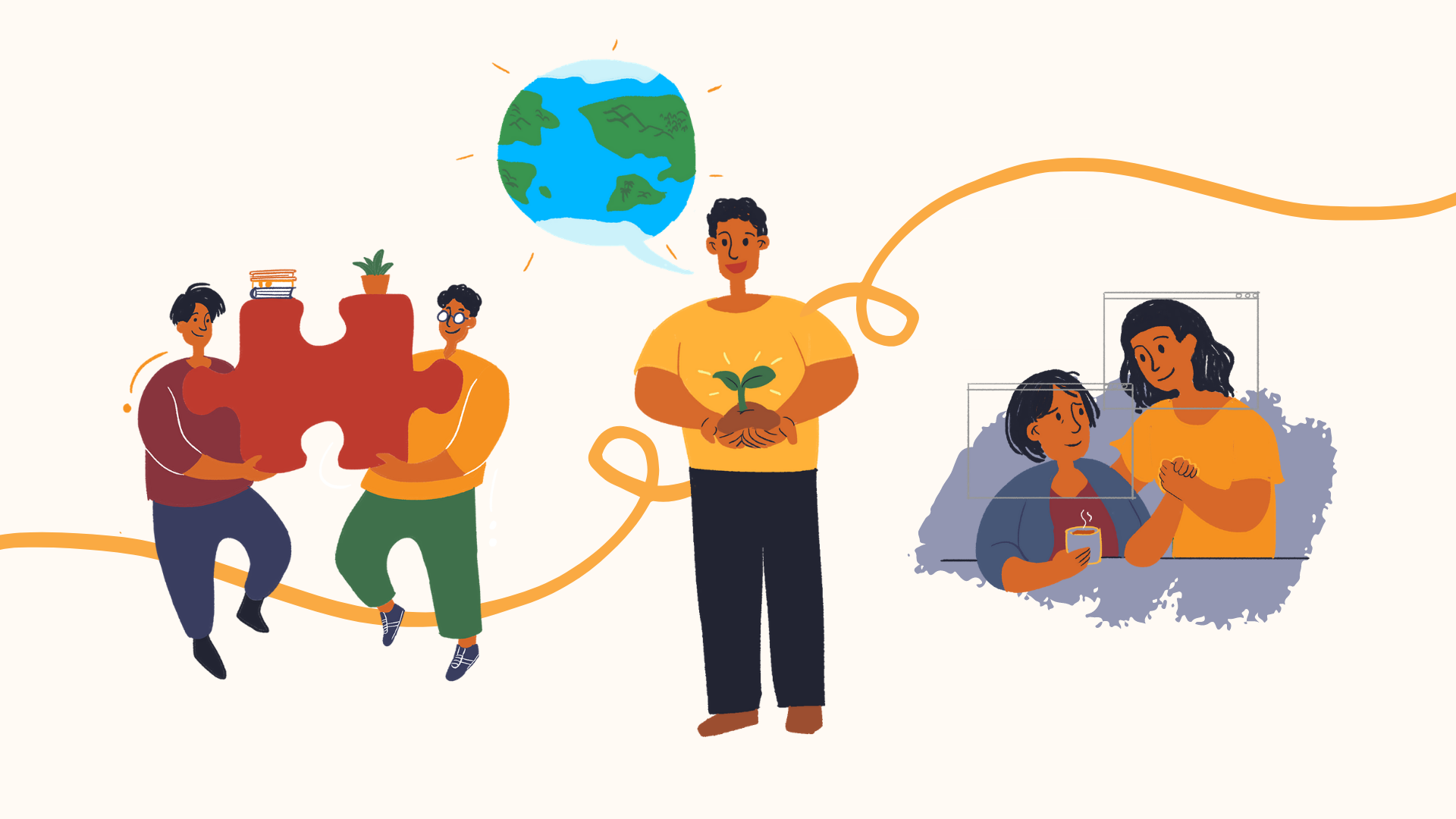 Here are some ideas that you can process with your learners:
Community Care
Many assumed that people would take more than they needed but there were repeated instances across the Philippines when people who took from the pantry refused to take more even when they were invited to do so. As they take from their pantries, they keep in mind how they might help others in need.
There was also an effort to purchase from local vendors instead of chain groceries as a way to directly support members of the community and their livelihoods.
As the pantry continues, the central idea is solidarity, not charity. It wasn't just the upper or middle classes giving to the lower; a significant amount of the goods in these pantries come from the communities themselves – farmers giving extra produce, fishermen giving extra fish. Even vendors would add extra for free once they know where their goods are going. There's so much that we can learn from the way communities care for each other, and community care is something that we should aspire to.
Creative Collaboration
Individual responsibility has been highlighted as a way to survive the pandemic but we live in a community and cannot survive without the support of others. The pantry has been able to find support in unexpected ways:
Motorcycle and bike enthusiasts intend to support the pantries by collecting donations and dropping them off in their ride routes in order to replenish the stocks
Graphic designers created infographics that can spread the word and inform others on how to create their own community pantries
Mapmakers and technologists devised toolkits and online maps to share more information about the pantries
There are always creative ways to work together to support good initiatives.
Critical Citizenship
What does it mean to be a good citizen? Ask any teacher and they'll tell you that critical thinking is one of the skills they hope their learners will develop. We often understand critical thinking as a set of skills and dispositions that support people in making judgments based on evidence. How might we go beyond judgment and criticism to acting on them to create positive ripples in our communities?
It's common to hear stories of pantries running out of stocks within hours setting up, or not being able to replenish in time. This is a sign that there is a clear need that communities alone cannot address, and that there are limitations to what citizens can do in the absence of support from the government. We can reframe civics and citizenship education to move away from merely inspiring loyalty to a country to inspiring care for  its citizens, challenging the status quo in order to achieve a creative, informed, socially just, and healthy society for all.
Resources:
Want to start or support a Community Pantry? Here are some resources that you can use:
Featured image from AP Non on Facebook.