For a company whose bread and butter is in facilitating workshops and face-to-face sessions with schools and teachers, the pandemic hit us pretty hard. Project postponements turned into cancellations, community quarantine meant having to stay at home and practice social distancing, and the uncertainty of the 'new normal' meant we may never get back to the comforts of our old routines.
But just like how a storm jostles the sea and brings up hidden things to the surface, this massive upheaval has brought with it some new opportunities and a chance at forging new paths moving forward.
Before the pandemic hit, we were working on a project that aimed to empower healthcare professionals with creative confidence and business acumen.  We envisioned a set of workshops followed by online coaching on using technology and social media for healthcare services. It was already a unique opportunity and challenge to work on a project in a sector outside of education, and we were preparing for it with our usual design process.
Then the community quarantine took effect. We started working from home, but as the weeks went by it seemed unlikely that we would be able to hold any kind of public or mass gathering soon. Our usual patterns for living outside our homes – work, school, shopping, socializing – all started to shift to their online counterparts, and learning events like workshops were no exception.
Our partner in the project informed us that, in light of the situation, they would want us to now focus on making video content that the participants of the program could access through Facebook groups that our partner would set up for the program. 
With that in mind, our challenge now shifted to producing the same kind of Habi learning experience we usually strive for, but now through pre-recorded videos where we would have minimal interaction with the participants, and delivering it to a totally different audience than we are used to – challenge accepted!
The Challenge: How might we adjust our workflow for creating online learning experiences? 
The (re)design process
We had two things in mind as we began working on this new iteration – developing materials aimed at improving healthcare professionals's personal, professional, and business development skills; and to maximize this opportunity to up-skill ourselves in making learning experiences for a different sector and in a different than usual medium.
In order to deliver a similar Habi experience throughout the videos, we decided to maintain three principles in the learning experience we were designing – 
make it concise, make it conversational, and make it fun. 
We first started out by remapping the learning content we had intended for the workshop into a video format.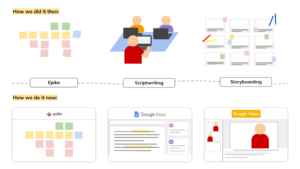 We usually go about this exercise at the office by drawing up an Epiko, or a user journey map with Post-Its or meta cards, but since we were all working from home, we used Padlet to map out individual Epikos and collaborate to build the final version we would develop into the actual video series. 
Once we were happy with the content flow, we started writing the scripts for each of the videos. We've never really done a lot of video-based learning content, and we rarely write scripts when facilitating any of our face-to-face workshops, but we decided to generate scripts and storyboard how each video would play out, similar to how we do experience mapping for our workshop projects. We used Google Docs for collaborative script writing, and Slides for making storyboards that align with the script so that we would have a visual guide for what should be on screen, the presenter actions, and any cues for graphics or edits when the videos are passed on to our partner for post-processing. 
Lights, camera, action!
After our partners gave their comments and approval of the scripts, we then proceeded to film the footage. The agreement was that we would be shooting the raw footage and our partners would process and post the finished videos. This posed another challenge for us because the extended quarantine meant we couldn't physically work on it together, and we didn't have much experience in filming or in producing video content. 
However, because of the clarity we achieved in our scripts and storyboards, plus a bit of improvisation, we were able to channel our inner YouTube star and produce all the clips we needed.
Overall, the experience was fulfilling and worthwhile, even if it was well outside our comfort zones. We felt a definite improvement in our skills as learning experience designers, having tackled a new mode of experience and doing it for an unfamiliar set of learners. With the increasing demand for online learning experiences because of the pandemic, the experience with the project gave us a taste of what our work would be like in the 'new normal', and we look forward to bringing more of the Habi magic to online learning!