Prism: Digital Literacy for Teachers
Case Study
We developed an experiential, project-based professional development program on digital literacy for teachers. The activities required sustained engagement with digital tools, and they were able to use these tools to create blogs, games, infographics, surveys, informational videos, and pitches for community projects. While accomplishing their tasks, they were also able to improve their soft skills such as time management, communication, empathy, and creativity.
Project Summary
Prism: Digital Literacy for Teachers
How might we make digital literacy training more fun and interesting for teachers?
Partner: Globe Telecom
Project Type: Workshop Design and Facilitation
Key Insights:
Teachers are intimidated by technology use in the classroom but are eager to learn.
Most schools support and encourage their teachers to learn more about digital literacy
Design Specs:
Mission tasks are based on actual tasks that teachers have to accomplish in their daily work (ex: making materials, doing research, learning about different strategies, etc.)
Missions involved realistic uses of technology tools for collaboration and communication with coaches and for creating the output.
Each Mission has three levels, which chunks the whole project into attainable steps and allows participants a sense of accomplishment, while also serving as checkpoints for the coaches to give formative feedback.
The program is project-based in order to give teachers a sense of accomplishment at the end of the mission, while also giving them something tangible they can present to the public as evidence of learning.
Outcomes:
Many teachers come into the program willing to learn about digital technology, but believing that they are not "techies," an attitude that prevents them from upgrading their skills and completing the different mission tasks. After the program, most, if not all the teachers develop a more positive outlook towards digital technology, and the confidence to continue using the tools introduced. Some even look for new tools that they can integrate into their pedagogy.
Starting with Empathy
From our interactions with teachers, administrators, and school heads during our different workshops, we were able to determine that many teachers are interested in upgrading their tech skills and learning new and more effective ways to integrate digital technology into their pedagogy. We also held an FGD early on and learned more about their feelings on professional development programs, while getting their feedback on the rough prototypes for the modules we had in mind. Using these insights from teachers, as well as the standards of the International Society for Technology in Education (ISTE) as a framework, we developed the skeleton for Prism, an experiential, project-based professional development program.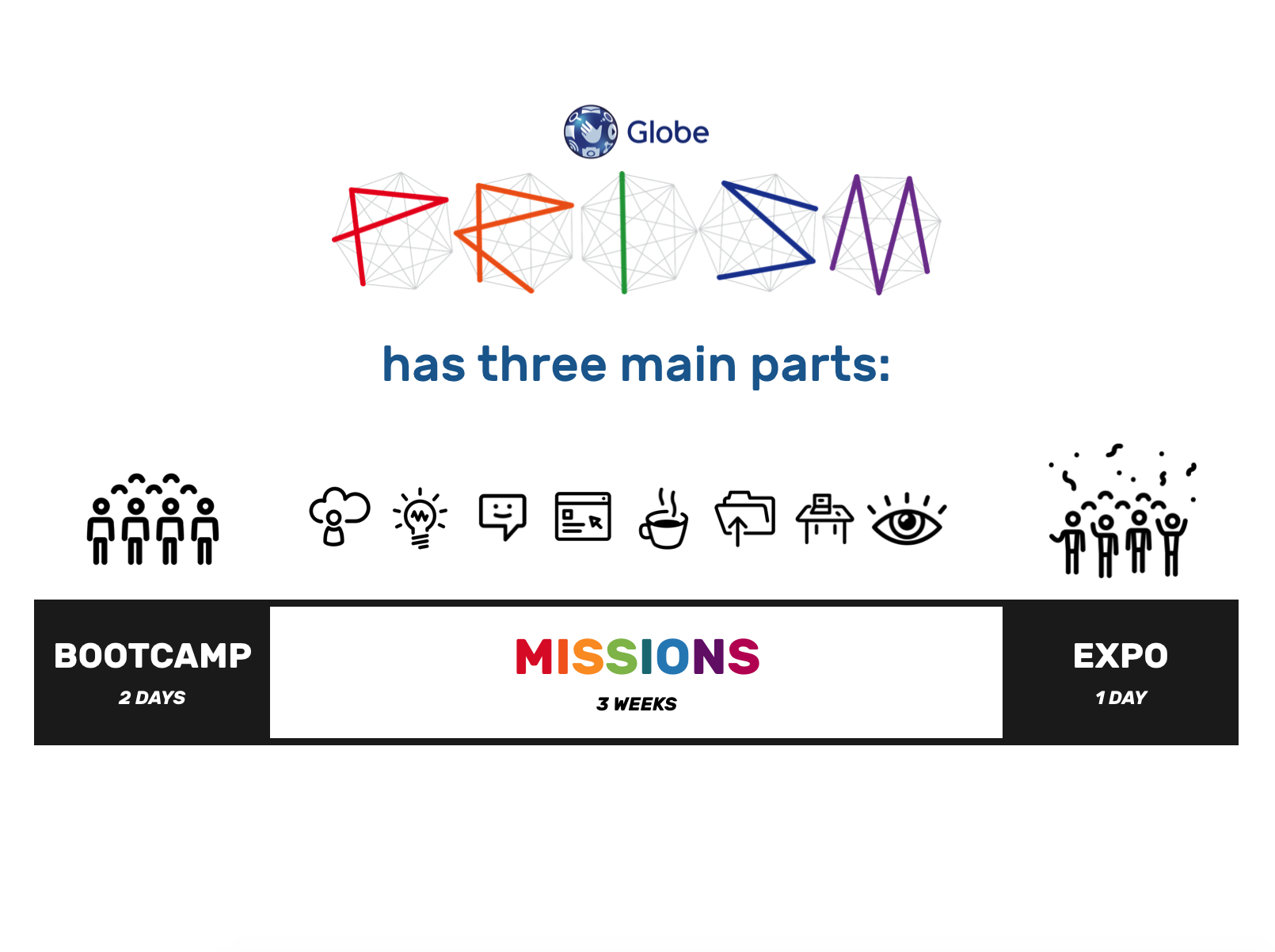 Putting it together
Using the skeleton as a starting point, Learning Coaches exchanged ideas with each other and developed the different Missions by including different tasks that required sustained engagement with digital tools such as Google Suite, Canva, Facebook, Adobe Spark, etc. The team were able to develop 7 Missions: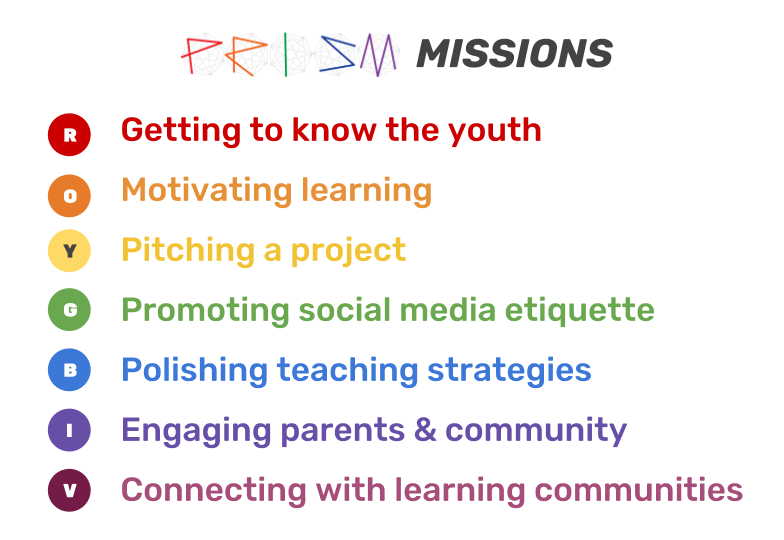 Typically, the Filipino teachers we work with are intimidated with technology use in the classroom but are eager to learn. Based on this insight, we carried out Prism in a manner unfamiliar to most teachers– we moved away from pure technical skills training, which are heavy on hands-on tasks, and facilitated activities that are rooted in actual teaching and learning processes. This type of functional digital literacy training is more meaningful to the participants as the association between the program and their teaching tasks are clear. We also designed the program to allow ample room for reflection, providing the participants ownership over their own learning. With these in mind, the team aimed to empower the teachers to use technology on their own, and hopefully recognize Prism as a pathway towards lifelong learning.




Showtime
Before the first leg of Prism in NCR, we were able to show prototypes of the Missions to a small group of teachers, who gave us their feedback. From there, we were able to tweak accordingly before launching the first Prism Bootcamp in NCR last January 14-15, 2017.
So far, Prism has had five legs: after NCR, we launched it in Naga, then Cebu, then Angeles, then back to NCR. The team is constantly making adjustments to the mission tasks, adding and removing tasks, and improving the delivery of their instructions based on feedback from participants.